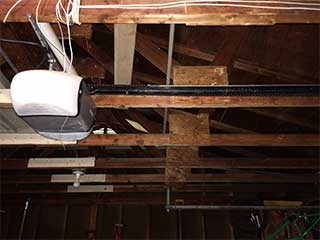 The opener is an essential part of any garage door system. Openers are essentially motorized units that power your system's operation and allow you to open and close your door with the push of a button. Being intricate electro-mechanical devices, they require some care and maintenance from time to time.
Does Your Opener Need Repairs?
If your garage door has suddenly stopped responding and won't open or close, this could indicate a worn-out motor gear. Alternatively, if you're finding your garage door is behaving unpredictably, e.g. it starts closing before opening all the way, there could be an alignment issue with your opener safety sensors. Sensor issues can be extremely dangerous if your system fails to detect an obstacle, or falsely detects one. Our experts will help you diagnose the issue and make any repairs or replacements as necessary.
All Sorts of Maintenance Routines
Some garage door openers tend to be a little noisy, so you'll want to ensure our experts perform regular maintenance on your unit to keep its operation as quiet as possible. Some opener systems, such as chain-drive openers, can do with a little lubrication from time to time to ensure efficiency and keep noise levels to a minimum. Our technicians can take care of this for you.
Choosing a New Opener
When choosing a new opener, there are many things you need to factor into your decision making, from door weight and size to insulation qualities and more. The easiest way to make sure you aren't neglecting anything is to consult with our experts – we can help you choose the right opener for your system and perform the installation from start to finish.
Contact Us Today
When you're not sure which opener will be the best one for your family, or if your current unit is giving you some problems, our experts at Garage Door Repair Snellville are the ones to reach out to. Call us today to schedule an appointment or to find out more.
You can also count on us for:
Garage Door Tune Up Services
Opener Sensor Replacement
Broken Garage Door Spring Replacement
Extension Spring Adjustment